A new Milanese storefront for Cantori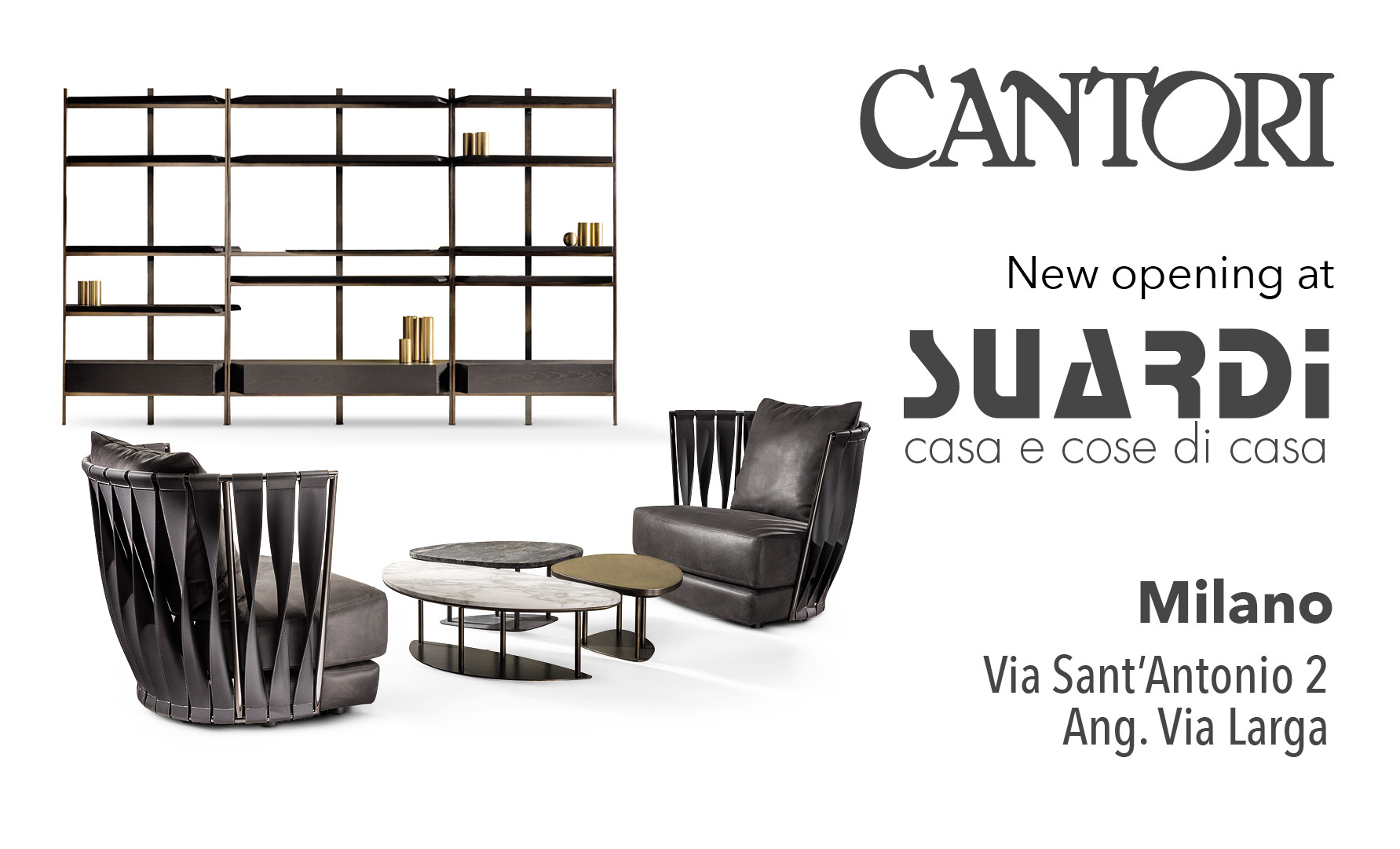 Located at 2 Via Sant'Antonio, between Via Larga and the State University of Milan, the new store is part of one of Milan's neighbourhoods dedicated to furniture shops, which is quickly becoming a point of reference for architects and decorators, as well as for private clients.
The store has a storefront and street entrance, and the interior space is divided between the ground floor and a lower level which can be accessed through an imposing white marble staircase.
The total display area is about 100m2 with high ceilings, which on the lower floor exceed 5 meters in height, allowing a wide view of the space and the collections presented therein. The colours of both walls and ceilings reflect Cantori's contemporary mood and vary from cookie colour to petrol green, from brushed grey to anthracite, juxtaposed to a matte dark grey oak floor.
Cantori offers functional furnishings, shapes and materials that ignite the home with new energy. Beds and bedside tables, wooden cabinets and dressers, tables and coffee tables, chairs and armchairs, consoles and partitions, mirrors, coordinated textiles, plaids, as well as a line of room fragrances. The whole goes to compose an attractive collection of more than 300 products, of which the company offers a curated selection in its new showroom, on Via Sant'Antonio 2 in Milan.
The space was opened through a collaboration with Suardi, a historic retailer of Cantori and other Italian brands of excellence for the Milan and Pavia area, and which — under the leadership of Stefano Suardi — has decided to embark on a new adventure by opening a store dedicated to Cantori.


SUARDI ARREDAMENTI S.R.L.
Via Sant'Antonio, 2 – Angolo via Larga, 20122 Milano (MI)
Tel.: 0264087532
E-mail: info@suardi.com


GAIA BARBIERATO Responsabile vendite store
Tel.: 3386884728
E-mail: gaia.barbierato@suardi.com

MASSIMILIANO RONZONI Agente di zona Cantori
Tel.: 3357120220