An armchair, a meeting place for yourself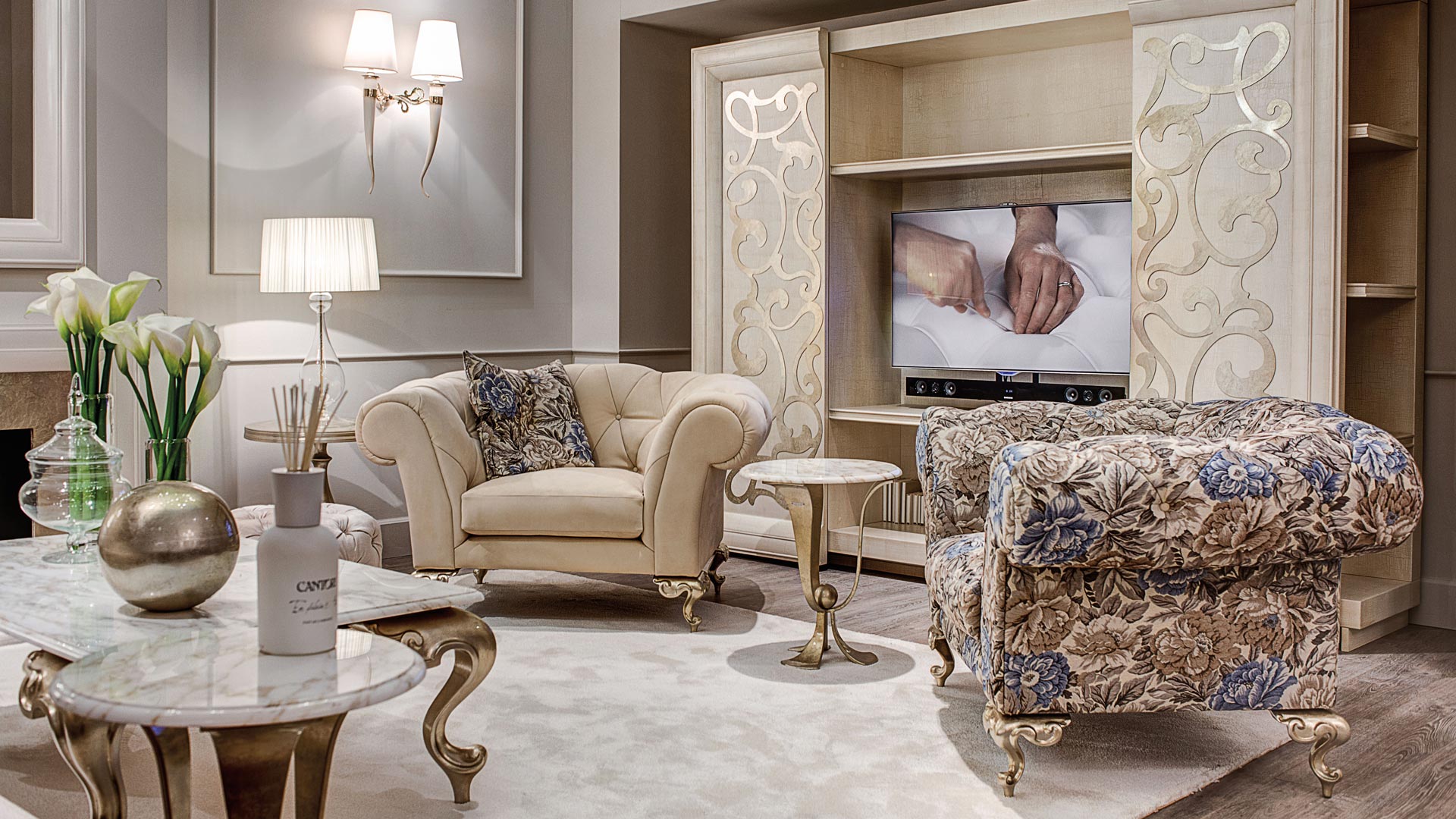 Out of all the comforts we have in our home, there is one that must never be underestimated: the armchair. When we want to have a moment to ourselves, it becomes our most trusted ally.
"A pressing appointment with an armchair" is synonymous with rest, relaxation and leaving stress and daily routine behind you.
A truly versatile item of furniture that can be placed in various rooms in the house: in the lounge to give extra personality to your living area, to bring out the best of a little-used corner or the space in front of a window and turn them into comfortable reading areas, or in the bedroom.
It is the focal point of any room and it's down to us to decide which armchair will be the ideal choice, reflecting on:
Style
Position
Furniture proposals
1. Style
Whatever kind of trend you prefer – classic, rock, modern or vintage – choosing an armchair is exactly the way you can give free rein to your creativity, and full voice in expressing the style, personality and appearance of your home.
If your armchair is to have the starring role in your room, then it's right to choose one with a unique and state-of-the-art design so that it stands out. Or, precisely with a view to distinguishing it from the rest of the decor, we could choose one in vintage style and give a retro feel to the setting.
Another solution is to play games with the finishes, choosing a bright colour or a particular motif to create a marked contrast with the sofa.
The choice of type can also provide a different feel to the setting we find ourselves in; for example, we could opt for a rocking armchair to create an intimate, reserved and (why not?) even a modern atmosphere by choosing one with a contemporary design.
Our advice is to set your sights on certain details that can highlight the impressiveness of this furniture item: refined feet or an elegant base or, as mentioned above, by choosing contrasting materials or fabrics.
2. Position
It may seem a rather marginal element but, as we already stated at the beginning, understanding where it will be positioned and how it will be used can help us to decide on our choice of armchair model, style and material.
Its location establishes the features it must have. If placed in the centre of the room, you will need to pay close attention to the all-round appearance of the armchair, particularly the "backside"; in this case, the backrest may express the prominent style of the lounge or chosen room.
If the armchair is to occupy a corner in the house, perhaps beside a small table so you can sip your tea or enjoy a glass of fine wine, it will need to be above all comfortable and welcoming. The perfect idea would be to opt for an armchair with comfortable padding and elbow-rests, so as to rest your back and aching legs at the end of a long day.
Placed next to a bookcase, it could have an accompanying pouf to give you extra comfort while reading a good book.
We have talked about the lounge and living area but armchairs can also be a furniture item for the bedroom, study or spacious access area. In short, an armchair fits in perfectly wherever you put it, even in the bathroom (if you have the space available) to relax in after a hot bath.
Armchairs are, therefore, elements of furniture that deserve an appropriate place in any home thanks to their versatility and easy movement. And if your furnishing requirements change, an armchair can easily be put in a new setting.
3. Furniture proposals
Twist
Aurora
Camilla
Portofino
Noè
George
Gabrielle
FURNITURE PROPOSALS TWIST
If you want a modern living area with a spirit of rock, there is no better choice than Twist. A modern armchair with a structural heart of iron, available in various galvanic bath finishes – gold, brass, black nickel or copper – or simply lacquered. The backrest is made of twisted bands of leather, chamois, nubuck or eco-nubuck that are hand-sewn with characteristic top-stitching. Twist has a wide and highly comfortable seat but the predominant aspect is precisely the bands on the backrest that allow you to glimpse the rear side giving it an open, three-dimensional feel that makes it perfect at all times.
It is one of those armchairs that acts as a leading player in the room. It's ideal, when accompanied by a simple sofa, or placed in a corner of the house with coffee tables or a console alongside it. A style icon also used in yacht design.
FURNITURE PROPOSALS AURORA WITH IRON RODS
An armchair with a vintage taste, available in a wide range of colours and fabrics. The structure in iron, with its internal tie-rod mounting system, can also be made with various finishes from gold bath to brass and metallic iron. The versatility inherent in Aurora with iron rods makes it perfect as a simple furniture item in white or beige, or as a leading feature of the room with bright colours.
FURNITURE PROPOSALS CAMILLA
A highly interesting rocking armchair, with clean, modern lines. The metal structure is hand-polished, while the shaped wooden seat is padded with two-density rubber and can be covered in fabric, velvet, leather or with a fabric provided by the customer. An elegant armchair with sinuous shapes, perfect for relaxing and extremely versatile that matches with any setting, either by itself or in a pair, creating a little corner in front of the fireplace or by a window overlooking a green lawn or pastures to enjoy the view together with your kindred spirit.
FURNITURE PROPOSALS PORTOFINO
In a classic, international setting, the Portofino will be the perfect choice. The metal swivelling base is equipped with a back-to-position system. The decorative band in gold or bronze enhances its curves and embraces its entire perimeter giving it an elegant appearance from every angle. The padding and quilting are entirely handmade in fabric, velvet or leather. An elegant armchair with a sinuous shape and an embracing backrest which ensures total comfort.
FURNITURE PROPOSALS NOÈ
The deco backrest in laser-cut metal is a prominent feature of the Noè armchair, perfect for an international-design bedroom, accompanied by a padded bed, or a corner in the living area that needs enhancing or even a refined reading area.
It is easily adaptable to any kind of setting, be it modern or classic. An accessory which brightens up any corner in the house, just like a pair of beautiful earrings brightens up any face. Outstanding when combined with items whose tones and materials match the armchair, like a lamp or a mirror.
FURNITURE PROPOSALS GEORGE
An armchair with timeless style, with an internal wooden structure padded and upholstered also with fabrics or leather provided by the client (non-removable covering). The Capitonné processing starts from behind the curve of the backrest. The feet are in die-cast aluminium and are polished and decorated by hand with silver, gold or champagne leaf. Perfect in the centre of the room like the queen of the lounge.
FURNITURE PROPOSALS GABRIELLE
An armchair with a swivelling base in decorated metal, which underlines its curves. Perfect for accompanying a modern sofa, or becoming the star attraction in a small living area or bedroom. Available in a wide range of colours and fabrics; to add that extra touch of style you could choose a bright colour like orange.

È necessario aggiornare il browser
Il tuo browser non è supportato, esegui l'aggiornamento.
Di seguito i link ai browser supportati
Se persistono delle difficoltà, contatta l'Amministratore di questo sito.
digital agency greenbubble