Self-supporting bookcases: a play of full and empty spaces.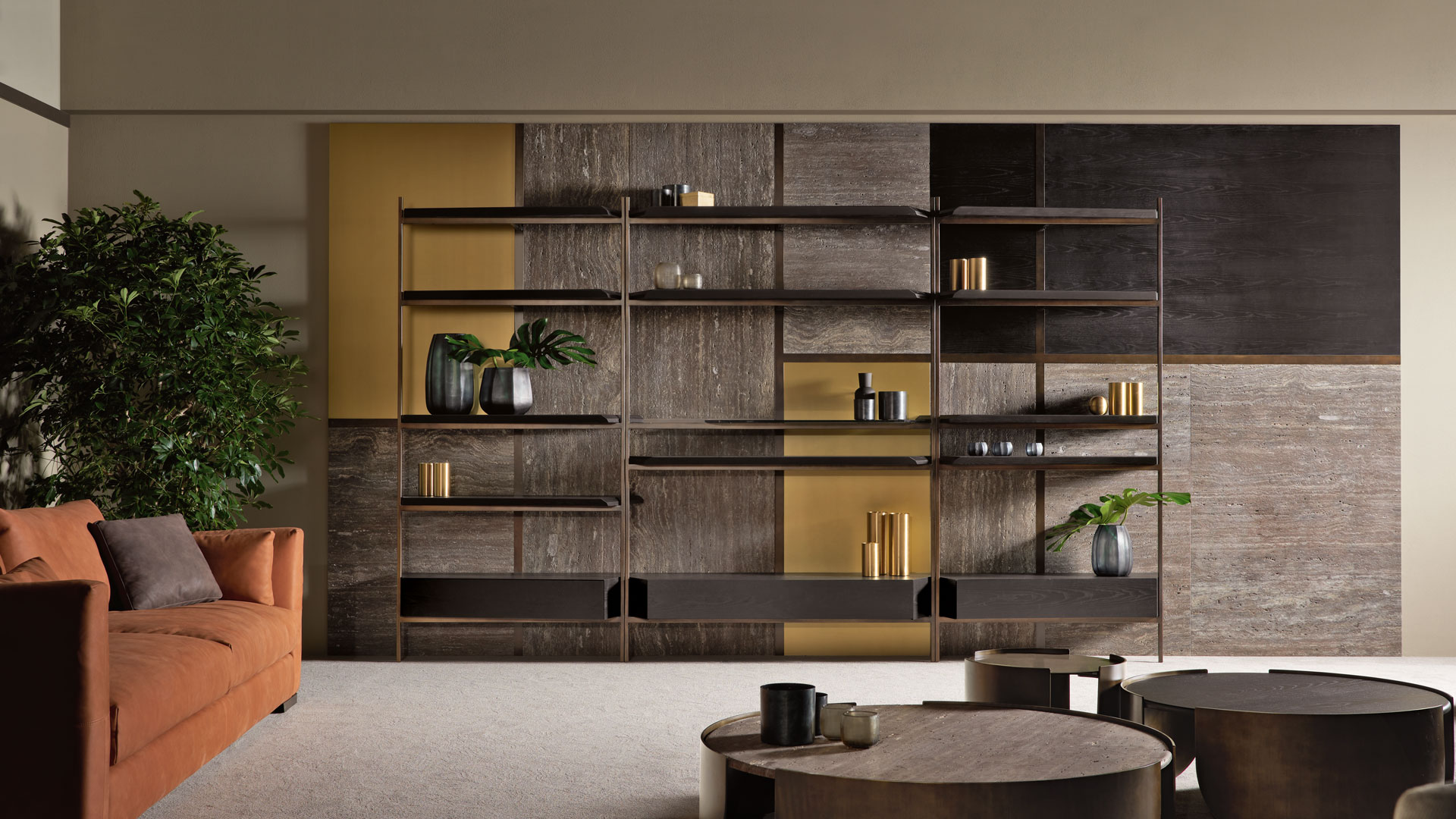 Born to function as partitions in office spaces, or used to fill a wall with style, bookshelves are one of the most practical and functional pieces of furniture for the house.
Modern homes are often planned with few dividing walls, or are open spaces, as in the case of lofts reclaimed from industrial spaces. Having a furnishing element able to divide the space, without introducing fixed infrastructure, is often a necessity.
Self-sustaining bookshelves, a trendy choice nowadays, are wholly free-standing, i.e. they do not need to be anchored to a wall, but can simply stand on any floor. They can therefore be placed in the middle of a room, and the objects and ornaments we choose to put on our shelves can give character and personality to both sides of the room. They are useful for organizing your books, or for placing other objects like vases or plants — perhaps hanging ones — turning the bookshelves into proper equipped walls.
This kind of bookshelf can be either a single piece or composed of several modular elements, thus being flexible and adaptable to any need, or any available space.
Among Cantori's products the Hong Kong and the Macao bookshelves stand out, characterized by a fascinating play of full and empty spaces, designed by the architect Maurizio Manzoni and his team:
"Cantori's technical expertise and their attention to detail have given us greater expressive freedom than is usually allowed by more mainstream products. We have sought to elevate the project as a whole by paying attention to the minutest detail. Forms and curves become the container for other forms and materials. Precious materials that are elegantly merged, with a style that is highlighted by the only apparent simplicity of the structure as a whole."
Hong Kong Bookshelf (self-sustaining)
Macao Bookshelf
1. Hong Kong Bookshelf (self-sustaining)
Modular structures permit the creation of new spaces within the living room, without the need for masonry work: the perfect solution for those who want a vibrant and lively environment, using only a few materials, like the wood and aluminium that compose the Hong Kong bookshelf.
This piece of furniture is freely inspired by the innovative and iconic installations of cast-iron architecture — the avantgarde movement popular between the 1800s and the 1900s. The metallic structural elements are therefore not hidden but rather exposed, composing the core stylistic character of the composition as a whole.
Every module can be customized with a wooden panel, which can either be used as a shelf or as decorative element, or again with container cubes, with a flap door to be positioned wherever it suits you, making of the Hong Kong bookshelf a true work of art.
The vertical openings on its back panel engender plays of light and darkness that enliven the whole structure: an alternation of full and empty spaces that does not encumber the space in which the bookshelf is placed.
In order to create an impactful visual effect, some green or high-contrast objects can be placed on these shelves. On the other hand, if you want to give a touch of light to the room, some LEDs strips can be applied to the rear of the bookshelf, further highlighting its structure.
This kind of self-sustaining partition offers a double advantage: it is both an element able to furnish all kinds of environments, and it contributes to creating a whole new character for the whole room, in synergy with the rest of the furniture.
This is why the Hong Kong bookshelf is perfect both for a living room and for a bedroom, perhaps by choosing a smaller size. Indeed, it represents a functional and aesthetically pleasing solution to separating the bathroom from the bedroom, or the night area from the walk-in closet.
2. Macao Bookshelf
The Macao one is a two-sided bookshelf, able to provide privacy without darkening the environment. Its linear and modular structure makes it perfect as a dividing wall within an open space; to separate day and night areas, to divide space in a child's bedroom, or again to create a visual filter between the hallway and the rest of your home.
The supporting structure is metallic, with a square section with a matte bronze finish, while the shelves can be realized in black ash or natural walnut, or again in glass, with fully removable drawers. If positioned against a wall, it can be enriched with wooden, metallic, or stone panelling.
Its signature trait is the interlocking shelves: they create interesting geometrical and light effects, creating reflections on to the precious materials that compose it.

È necessario aggiornare il browser
Il tuo browser non è supportato, esegui l'aggiornamento.
Di seguito i link ai browser supportati
Se persistono delle difficoltà, contatta l'Amministratore di questo sito.
digital agency greenbubble