How to protect, clean and enhance furniture surfaces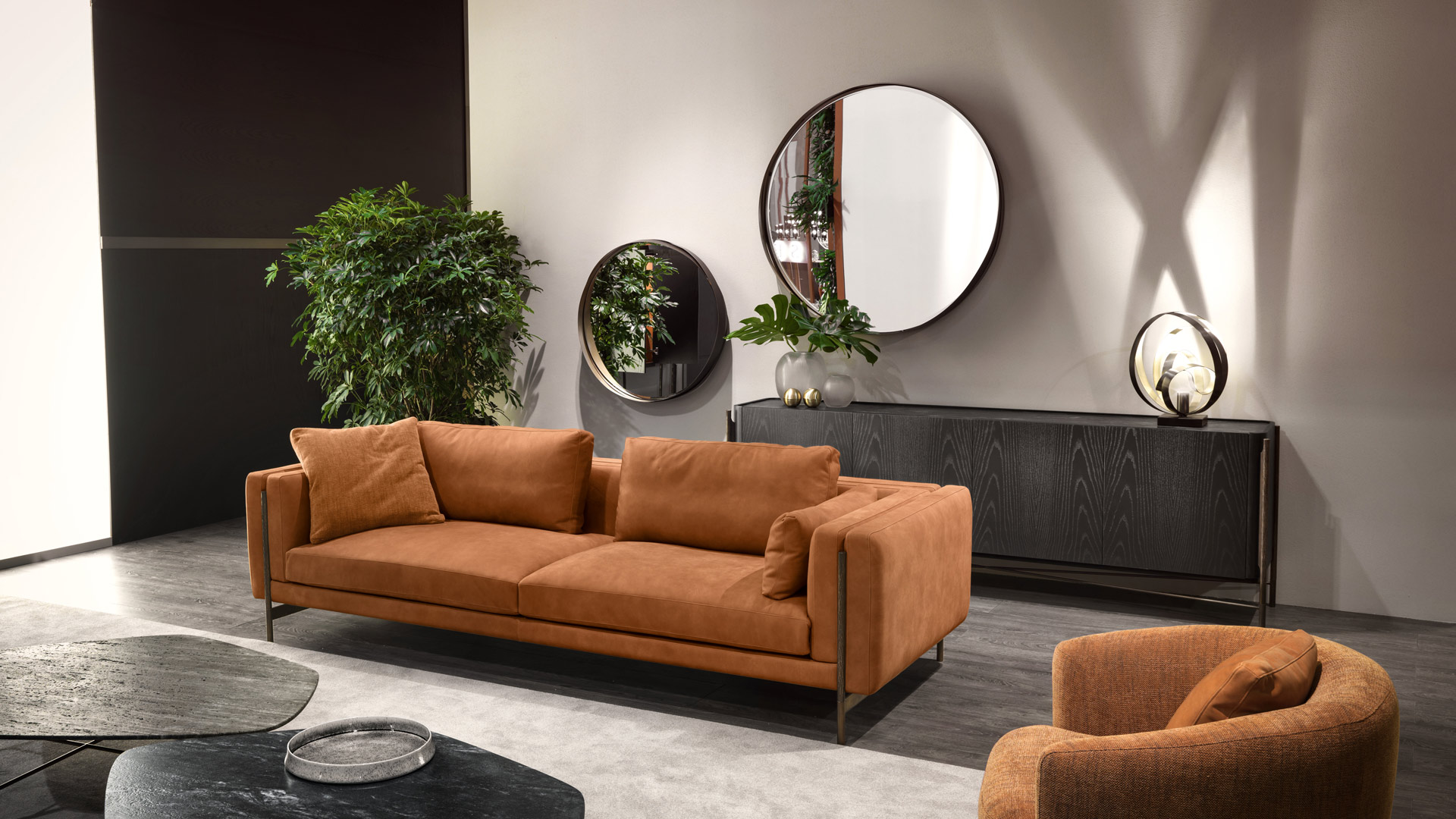 When we think about our home, our thoughts immediately turn to those relaxing times we spend with friends or to times dedicated to remote working, but also to the inevitable cleaning sessions. Every room consists of a number of furniture items we need to take care of, while taking account of the material that each one is made of.
Here are a few well-known or less well-known tips about how to clean home surfaces:
Cleaning and maintenance of furniture and surfaces in wood
Cleaning and maintenance of furniture and surfaces in marble
Cleaning and maintenance of furniture and surfaces in glass
Cleaning and maintenance of furniture and surfaces with covers made of fabric, leather, eco-leather, chamois, nubuck or eco-nubuck

1. Cleaning and maintenance of furniture and surfaces in wood
Wood is a material that immediately provides your home with a warm, welcoming feel but requires care and attention to make sure it does not lose its original splendour. This is why certain protective coatings are applied on Cantori finishes and work processes to make them suitable for everyday use.
A cloth to remove dust is more than enough for ordinary cleaning of wooden furniture, whereas for major cleaning it is a good idea to use specially-prepared products (preferably natural ones that respect the home environment and furniture surfaces) or even do-it-yourself products.
You need:
Wet the microfibre cloth with water, wring it out carefully and wipe over the wooden surfaces delicately, and before you can say Jack Robinson, they will become shiny and clean. If you use this method, the protective coating applied by the company will not be damaged and will remain intact over time.
2. Cleaning and maintenance of furniture and surfaces in marble
Marble and stone are natural materials that are highly appreciated in the furniture world, especially for making the tops of tables, coffee tables and small tables. The nuances and grains are infinite in number with every quarry and every slab offering its own unique design. Its main feature is precisely that of being a unique and live material, a natural work-of-art with marks that tell their own time-honoured stories.
Marble is highly versatile, solid and robust, but similarly also delicate due to its porous surface; mistakes in cleaning and maintenance can seriously jeopardise its appearance and structure. Protecting it and cleaning it delicately are the only sure ways of maintaining its immortality.
You must be careful not to leave damp objects or liquid substances on the surface for too long (and products containing acid substances are to be avoided at all costs). Cantori tops and surfaces are protected with stain-resistant treatments applied directly on the slab.
For performing ordinary maintenance on marble, a soft sponge is quite adequate (it should be non-abrasive so as not to remove the shine) with a little water and neutral soap; whereas, if you need to eliminate any traces of grease and clean more thoroughly, you can use a solution consisting of the following:
1 litre of warm water
Marseilles soap or neutral soap
If you would like to revitalise the shine on a marble surface, you only need to apply straw oil or bees' wax periodically, leave it to act for about 20 minutes and then remove it with a cotton or wool cloth.
When required, Cantori can provide a small quantity of preservative to bolster the treatment already given, so as to liven up the surface and hide any stains that we have not managed to remove promptly.
3. Cleaning and maintenance of furniture and surfaces in glass
Who does not have a glass top in their home? Whether it is a shelf inside a dresser or cabinet, the top of a table or a mirror, glass is a material that is widely used in every home. It is bright, pleasing to look at and to touch, but it is a real hardcase when it comes to cleaning, because the surface can be easily scratched or scored if you do not use the right techniques.
You need:
Electrostatic cloth
Appropriate cleansers (alcohol)
In order to sanitise a crystal glass table and make it shine, without fear of ruining it, it is a good idea to eliminate the dust first with an electrostatic cloth so as to avoid a build-up of dust which can then form a paste with the cleanser. After this, we can proceed with the actual cleaning.
If there are any persistent stains we should moisten them first with hot water and try to eliminate them a little at a time, wiping them over with a soft cloth. The operation should be repeated until the stains disappear.
The last phase should involve using a specific product for glass surfaces, so as to eliminate any marks and bring back the shine to our top. If we prefer the do-it-yourself methods, we can opt for using warm water with vinegar or water with methylated spirits; two solutions that help crystal glass to shine.
4. Cleaning and maintenance of furniture and surfaces with covers made of fabric, leather, eco-leather, chamois, nubuck or eco-nubuck
When it comes to items of furniture covered with fabric, leather or eco-nubuck, we immediately think of classic padded items like sofas, armchairs, chairs and beds, but over recent years there has been a growing tendency to fully cover even small furniture accessories such as night groups (chest of drawers and bedside tables) and shelves on bookcases, or top surfaces of dressers or small tables. As a result, it becomes essential to know how to take care of them.
Before proceeding with cleaning fabric covers, it is a good idea to use a brush and vacuum cleaner first to remove any surface dirt. When that is done, you can move on to the proper cleaning. If we do not have any specific products, the best do-it-yourself cleanser for this kind of material is a solution consisting of common products:
water
vinegar
essential oil
We mix together the first two ingredients, adding a few drops of our favourite essential oil. The quantities may vary, but in a litre of water a generous glassful of vinegar is more than sufficient. Using a damp cloth, we need to rub this mixture over the surface and leave it to dry. This will clean and thoroughly disinfect the item.
If there are any stubborn stains, we should use a little Marseilles soap or bicarbonate: we can leave it for 10-20 minutes and then carefully rinse it.
For covers in leather or eco-leather, we can resort to specific kits that are on the market or cleansing milk. Its revitalising action cleans and gives an incredible shine: something really worth trying!
For covers in nubuck and chamois, it is a good idea to use a neutral (uncoloured) rubber to rub out marks or a brush with bristles that are not too hard.
If we want a do-it-yourself solution with a deeper action, we can resort to:
water
bicarbonate
Marseilles soap or neutral soap
cloth
We moisten the soft cloth with water and a small quantity of neutral soap and use it on the leather surface adding very light pressure and immediately drying the surface with another soft, dry cloth.
The nubuck and chamois covers used by Cantori are water-repellent because a special treatment is applied which protects the surface. In the event of stains that are difficult to remove, you can ask for a special cleaning kit or, if the stains are on nubuck and eco-nubuck, we can eliminate them by following the advice below:
Fruit: Wipe with e sponge moistened with cold water.
Chocolate and coffee: Wipe with e sponge moistened with warm water.
Ink: Use alcohol, then follow the instructions for method A.
Urine and sweat: Use method A, followed by an application of a small quantity of ammoniated liquid cleanser
Vomit: Carefully remove the vomit, dab with a sponge moistened with cold water and follow the instructions for method A.
Mud: Delicately remove as much of the dirt as possible using a spatula. Leave to dry and then use a vacuum cleaner. If the stain persists, use the ammonia solution in line with method A.
Grease-oil: Follow method B.
Wax: Delicately remove the wax using a blunt knife or spatula. Then use method B or cover the stain with various layers of absorbent paper and apply a hot iron.
Cleaning method:
A. Use water-based cleansers, or add two spoons of ammonia to 1 litre of water. Delicately dab the stain with a cloth moistened with this solution, taking care to turn the cloth over to ensure that only a clean part of it comes into contact with the stain.
B. Moisten a cloth with pure and undiluted, non-aggressive, dry-cleaning solvents and follow the procedure for method A.

È necessario aggiornare il browser
Il tuo browser non è supportato, esegui l'aggiornamento.
Di seguito i link ai browser supportati
Se persistono delle difficoltà, contatta l'Amministratore di questo sito.
digital agency greenbubble