The monumentality of 'Do Leoni - Canal Grande' and Cantori's refined scenography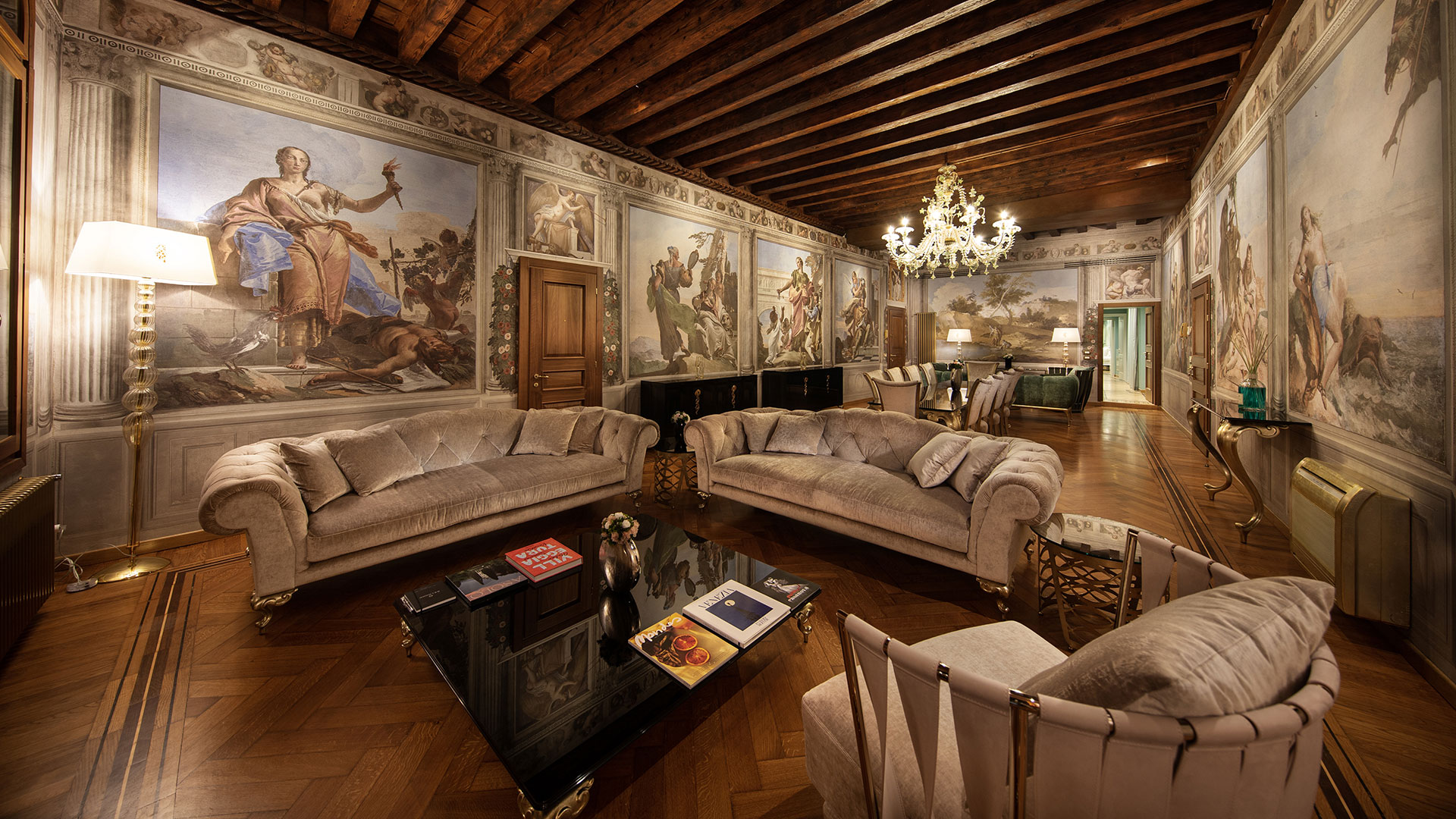 A new way of conceiving furnishings: special touches, tailor-made details, and a contemporary look — hallmarks of a precious brand such as Cantori's — have transformed the monumental ambience of "Do Leoni - Canal Grande" located in the San Polo Sestriere in Venice, in Via San Polo 2811/A on the first floor of Palazzo Ca' Marcello dei Leoni, a historic residence.
An innovative metamorphosis that marks the passage of time, oscillating between a glorious past and a precious present. An iconic and fascinating fusion that harks back to distant glories, reflecting an elegant luxury that is always up-to-date.
The main floor consists of two separate and independent flats, and a number of elements chosen from the Cantori collections have been selected to furnish them.
Each Cantori creation is a perfect synthesis of design and craftsmanship, with a unique aesthetics and unrivalled quality of manufacturing. Thanks to a great variety of versatile shapes and countless combinations of colours and finishes, each piece of furniture here has been designed to perfectly match the imposing and grandiose spaces of this classic 18th century building.
This gives rise to sophisticated angles and perspectives where the fluidity of the furnishings and different colour schemes harmonise with the seductive frescoes, while a sophisticated play of lights and shadows defines the space that the photographer Marco Buratto has captured with extreme sensitivity.
In the large frescoed hall — paying homage to the palace's grandiose past — there are two comfortable lounges. The first, with a spectacular view of the Grand Canal, is composed of George sofas, Twist armchair in neutral colours, and a triptych of Narciso coffee tables and Isidoro round coffee tables at the sides. In the centre, the large George coffee table provides a useful table top. The second composition with TV area is a combination of two Twist armchairs and a Iseo sofa, along with Conico coffee tables. In the centre, the George dining table with Raffaello chairs can seat up to 10 people, while George sideboards and console table complete the furnishings.
The sleeping area is composed of three bedrooms, one of which has a master bathroom, and walls with pleasant floral decorations with golden motifs or tropical landscapes. The Iseo beds are placed alongside with other elements from the Narciso collection and Aurora upholstered armchairs, as well as Portofino and George poufs. In the flat with a sophisticated and eclectic interior style — with a jungle touch — the comfort space is characterised by the Iseo sofa, the spectacular Mondrian table, and Miss chairs. In this flat, the room overlooking the Rio de San Tomà is furnished with an Iseo bed and Narciso accessories. The Iseo sofa and bed and Miss chairs are upholstered with a refined, intense midnight blue colour, like the dominant colour of the beds in the rooms of the large flat.

È necessario aggiornare il browser
Il tuo browser non è supportato, esegui l'aggiornamento.
Di seguito i link ai browser supportati
Se persistono delle difficoltà, contatta l'Amministratore di questo sito.
digital agency greenbubble