How to furnish a bedroom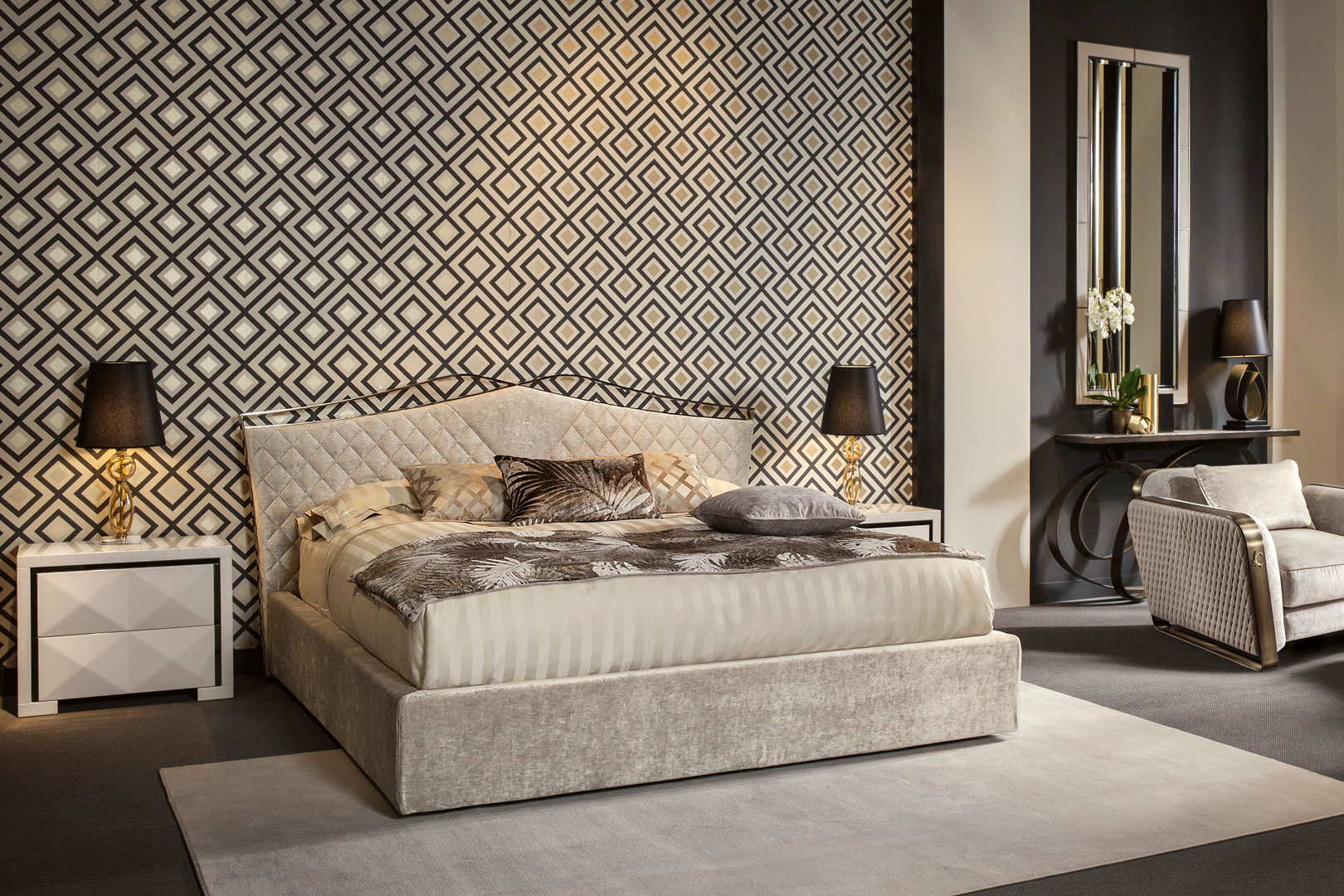 The bedroom is probably the most important room in a house; it is where we sleep, we have moments of relaxation, and where the children spend most of their time, immersed in their games.
This is why its details should be carefully planned: from the choice of wall colour to that of the bed, from the wardrobe to furnishing accessories, as well as solutions to maximise the available space.
How to place the bedroom furniture the correct way?
Here's some simple advice to furnish any kind of night zone in the most functional way, without forgetting the aesthetic aspect:
How to furnish a small bedroom
How to furnish a large bedroom
How to furnish a bedroom with windows on two or more walls
1. How to furnish a small bedroom
If you are furnishing a small room it is necessary to adopt strategies to trick the eye into believing the room to be larger and more spacious than it is. In particular, it is important to keep the space organised and tidy, because chaos and disorder can produce the opposite effect, making a larger room seem smaller.
COLOUR TONE
The colour of the walls is a key element to enhance the furniture and the dimension of the night area. Light tones, like light grey and beige, can lend a lighter feel to the environment, creating the optical illusion of a larger space. A stylish solution is to choose a total white style, broken by some beige or black detail, such as a picture frame, a rug, or a bed cover.
BED
Which bed to purchase is a difficult and delicate choice; it should be comfortable, to best facilitate everyday rest, but it should also fit the available space, and be coherent with the rest of the furniture in the room.
In a small bedroom, the most practical choice is a container bed, since it allows storage of various items and clothes. In order to manage the internal space, usually with a height of about 30 centimetres, it is possible to use vacuum bags. Duvets and bulky clothing can be stored underneath the bed, thus freeing space in your wardrobe, which is then available for storing everyday clothes, avoiding drawers or encumbered shelves which would cause creasing.
Another solution is to place different-coloured containers, better if with a zip lock on top, in order to divide and organize, even visually, their contents.
WARDROBE
A smaller night area calls for a vertical rather than horizontal use of space. The wardrobe, besides being ceiling high, should have a practical means of opening it, and one suited to the kind of room it is placed in. In the case of an attic, where the ceiling is low and sloping, one should choose a hinged (usually about 45cm wide) or sliding door (up to 150cm wide).
As already explained, an attention to detail can help to achieve the optical illusion of a larger space, which is why it is advisable to choose a glossy wardrobe.
SMALLER FURNITURE
Once the bed and the wardrobe have been chosen, it is time to unleash your creativity with smaller pieces of furniture. The traditional bedside table and dresser can clutter the room space, so it is possible to choose a settimino chest of drawers, called thus because of its seven drawers, one for each day of the week. This is a tall and narrow piece of furniture which, due to its small size (70cm width, 130cm height, 50cm depth), can be perfectly placed in a narrow space, in order to use its vertical rather than horizontal dimension.
In order to further enhance the bedroom, different light features can be added, perhaps ceiling-mounted ones, small tables, or stools, so to leave a passageway open. Another trick is to hang mirrors on the walls, in order to enlarge the perceived space.
2. How to furnish a large bedroom
In the previous case, the problem was choosing furniture carefully in order not to create a messy and chaotic room; here, on the other hand, the main challenge is that of having a lot of space to organize. It is therefore necessary to plan your furniture with the goal of creating a warm and welcoming environment, without falling into the trap of a too impersonal room, which gives a cold and museum-like vibe.
COLOUR TONE
According to colour psychology, every tonality plays a profound influence on our mindset, and it is therefore important to choose suitable colours for our walls, and this is especially true in the case of a bedroom. As already mentioned, light tones transmit a feeling of space, while darker ones make a space feel smaller.
Another trick is to choose a different colour for only one wall, to create a stark and unique contrast. According to which wall is chosen, and which colour, the observer will perceive the depth, dimension, and focal point of the room in a different way. The lighter and cooler colours will "stretch" the space, making furniture placed along that wall look farther, while darker shades will foreground them, and they will seem closer.
Choosing a lighter tone for the wall behind your headboard will have the effect of focusing the attention of the observer on that point.
BED
A large bedroom will permit the placement of an oversized bed (200cm x 200cm); this will grant you a better sleep and, if it is a container bed, also more space to store clothes you don't need.
The most desirable choice is certainly to position the bed in the centre of the room, since, the room being very large, it won't obstruct the passage. Besides choosing a comfortable mattress, and good bed slats, the headboard also requires attention, and it should follow the style of the rest of the furniture, as it could become the focal point of the room as a whole.
Behind the headboard, you could place a small bench to leave your clothes on or to sit on, two armchairs, to create both a comfortable and intimate space where to read a book, or even a dressing table or a desk, if the headboard also functions as partition.
Another, more original, idea would be to place a canopy bed in your bedroom. This piece of furniture has a strong personality, and it is perfect both for a master bedroom and for a child's room — during the daytime it could become a fantastic "hiding place" for playing.
This kind of bed gives a creative touch to the room's décor and — in addition to its purely aesthetic aspect — it can also be quite practical and functional, since the canopy is very useful for those who prefer privacy when sleeping.
The romantic effect always prevails, and should you desire to further emphasize it, the canopy could be topped up with light veils. In this way the entire room will acquire a, exquisitely bohemian charm.
SMALLER FURNITURE
When furnishing a large room it is necessary to choose large and imposing furniture. Should the space still feel somewhat empty, it is advisable to insert some other pieces of furniture, such as bookshelves, sofas, or armchairs, which are ideal both as transitional elements between two areas, and to create an intimate reading corner, which could be further enriched with a pouf and a soft light.
In order to put the area behind the bed to the best use, especially if you have chosen a large and imposing headboard, a work area could be created, with smart solutions to store all the items you need once you are done with them.
Bedside tables, functional, lively, and practical, are the ideal way to put a finishing touch to the bedroom's furniture. Once they were much larger because practicality was prioritized at the expense of look. Today, the bedside table is considered more like a support surface than a container, so it has become smaller and its lines more minimalistic.
According to the available space there truly are many possibilities: with little space a wall-mounted shelf or bedside table with a small drawer could be the best option. Those who want to furnish a large bedroom, conversely, could choose full-sized bedside tables, up to a height of 60cm and width of 50cm.
If you have a headboard behind your bed, the bedside tables should be positioned in line with the latter, perhaps with a similar motif or made by the same material, so as to create a coherent stylistic flow in the room.
What woman doesn't imagine princesses, ancient ladies or silver-screen divas in front of their dressing table, applying make-up or brushing their waist-long hair? A spacious room cannot do without such a piece of furniture, usually placed next to the dresser, perfect to store makeup and cosmetics and, more generally, to make yourself pretty before a romantic date.
3. How to furnish a bedroom with windows on two or more walls
The bedroom requires natural light and good ventilation. Many windows are surely an advantage, but these could also create obstacles when it comes to furnishing the room. It is therefore necessary to pay attention to both the height of the furniture you choose, and to put the space to the best use.
BED
The bed could be placed against one of the windowless walls, or again in the centre of the room, as long as it doesn't obstruct the walking space in the room.
WARDROBE
In order to avoid problems with the organization of space, the windowless wall should be chosen to place a custom-made wardrobe.
SMALLER FURNITURE
If the room has windows facing the garden, a seat or a bench would be ideal to admire the view and to enjoy the contact with nature.
To complete the room's look, a dresser could be placed between two windows, or under one of them. Usually a dresser's drawers are 50cm deep, but shorter ones can be found; in any case, their size is important to consider in order to avoid having too small and impractical drawers.
In order to choose the right dimension of a dresser, according to the available space, you should measure the wall against which it will be placed, and leave at least 50cm all around it. In this way it won't look too visually massive, and won't encumber the whole bedroom.
It is also necessary to consider that, in a large night area, two twin dressers could be placed side by side, in order to use them as a handy surface on which to place books, ornaments, or a lamp.

È necessario aggiornare il browser
Il tuo browser non è supportato, esegui l'aggiornamento.
Di seguito i link ai browser supportati
Se persistono delle difficoltà, contatta l'Amministratore di questo sito.
digital agency greenbubble