The Cantori armchairs: between authenticity and creativity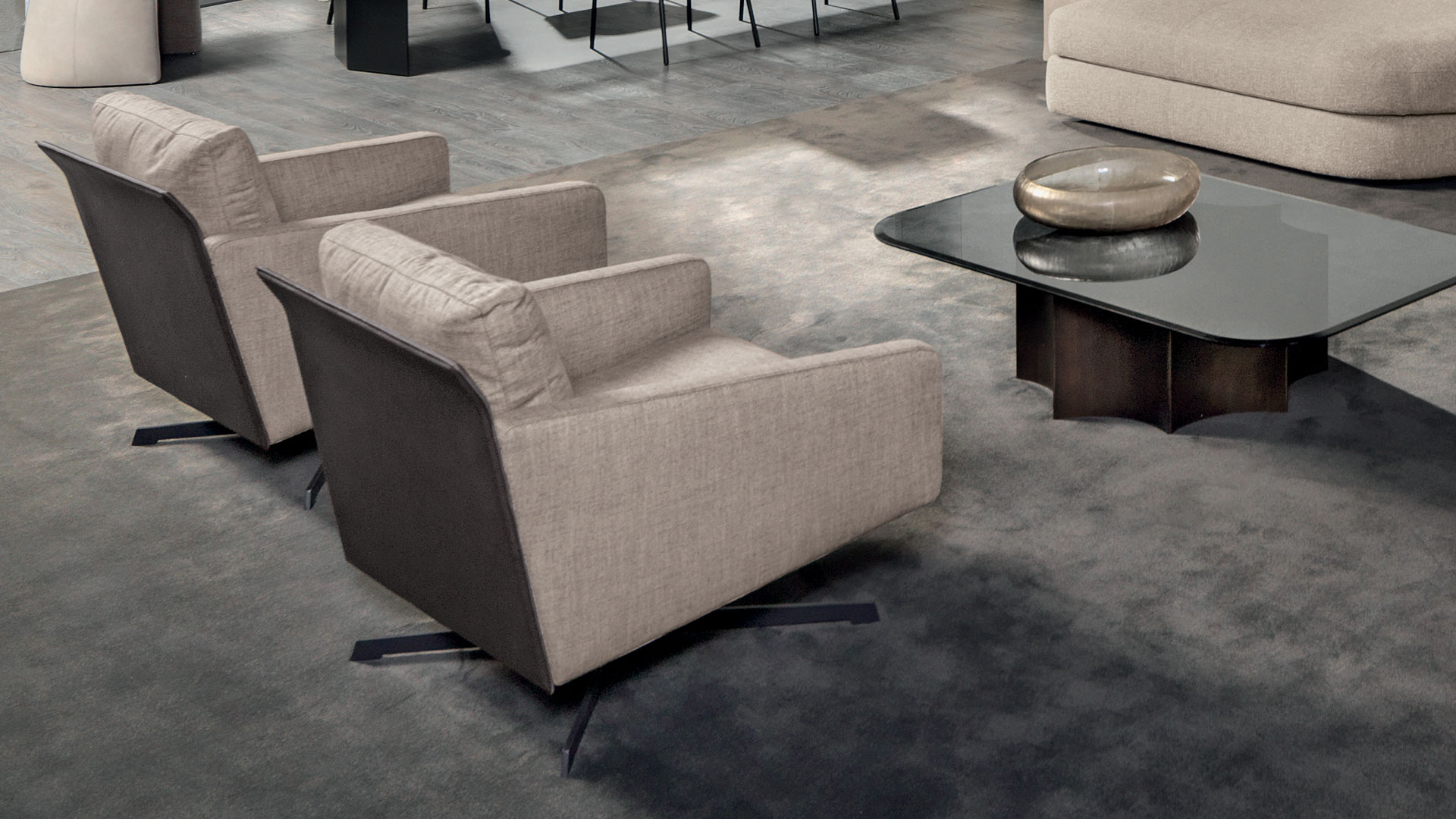 Whether minimal, versatile or eclectic, the armchairs embody a sophisticated design that sets them apart by highlighting their fundamental function: relaxation and comfort, in relation to its domestic contexts, by creating unexpected and original interactions.
Always careful to interpret current trends, Cantori offers armchairs that are characterized, through an unmistakable style, by a self-conscious originality.
The design, and the consequent production process, of our armchairs combine aesthetics and a concern for everyday well-being, with the addition of characteristic and peculiar embellishments and details.
New design interpretations meet refined manufacturing solutions.
Traditional techniques and materials are combined with cutting-edge technologies and finishes, especially conceived for the product, blending experience with experimentation.
One example is the iconic Twist armchair, designed by Castello Lagravinese Studio, and inspired by the glamorous world of the fashion industry, from which it borrows the details of the visible stitching and, above all, the signature bands of the backrest, made of twisted leather that dress the metal structure in a sartorial way. Each band is hand-stitched, with visible stitching.
The Karina, Sharon and Gabrielle chairs - designed by the architect Maurizio Manzoni - amaze thanks to their balanced and enveloping shapes and their extreme versatility. Offered with a range of coverings that reflect a contemporary taste, they fit easily in any environment.
Thus, valuable objects are created for the intimacy of a domestic environment, or a space dedicated to hospitality.

Twist
Exclusive and original, the Twist armchair, with its harmonious and enveloping shapes designed by Castello Lagravinese Studio, combines complex craftsmanship, which respects its streamlined design, and the functionality typical of a design project.
Synonymous with elegance, with the twisted bands that sartorially dress the circular metal profile, the Twist chair represents the good taste, comfort, and unmistakable style of the most authentic "Made in Italy".
cm 110 x 86 x 83 h
Armchair with a structure completely covered in fabric or leather.
The same line also includes a comfortable table armchair, that incorporates the same aesthetics and finishes.
cm 61 x 58 x 78 h
In the world of upholstery, we find Sharon, a swivel armchair with a retro taste where metal, leather, and fabric coexist in harmony. Soft, upholstered cushions are encased by a rigorously designed, shaped leather back, with a metal core and base.
cm 82 x 90 x 80 h
Simple lines and ergonomic and sinuous shapes characterize the Gabrielle swivel armchair, designed by the architect Maurizio Manzoni. Thanks to its compact structure, wholly padded, it claims its place among the most striking chairs following contemporary trend.
cm 90 x 85 x 70 h
Designed by Loriano Barani, the Noè armchair has its base and back made of solid, curved, and laser-cut iron. The backrest thus forms metallic flourishes with sinuous shapes, and a classic flavour.
cm 69 x 64 x 72-42 h

È necessario aggiornare il browser
Il tuo browser non è supportato, esegui l'aggiornamento.
Di seguito i link ai browser supportati
Se persistono delle difficoltà, contatta l'Amministratore di questo sito.
digital agency greenbubble