The TV stand, unusual, elegant and refined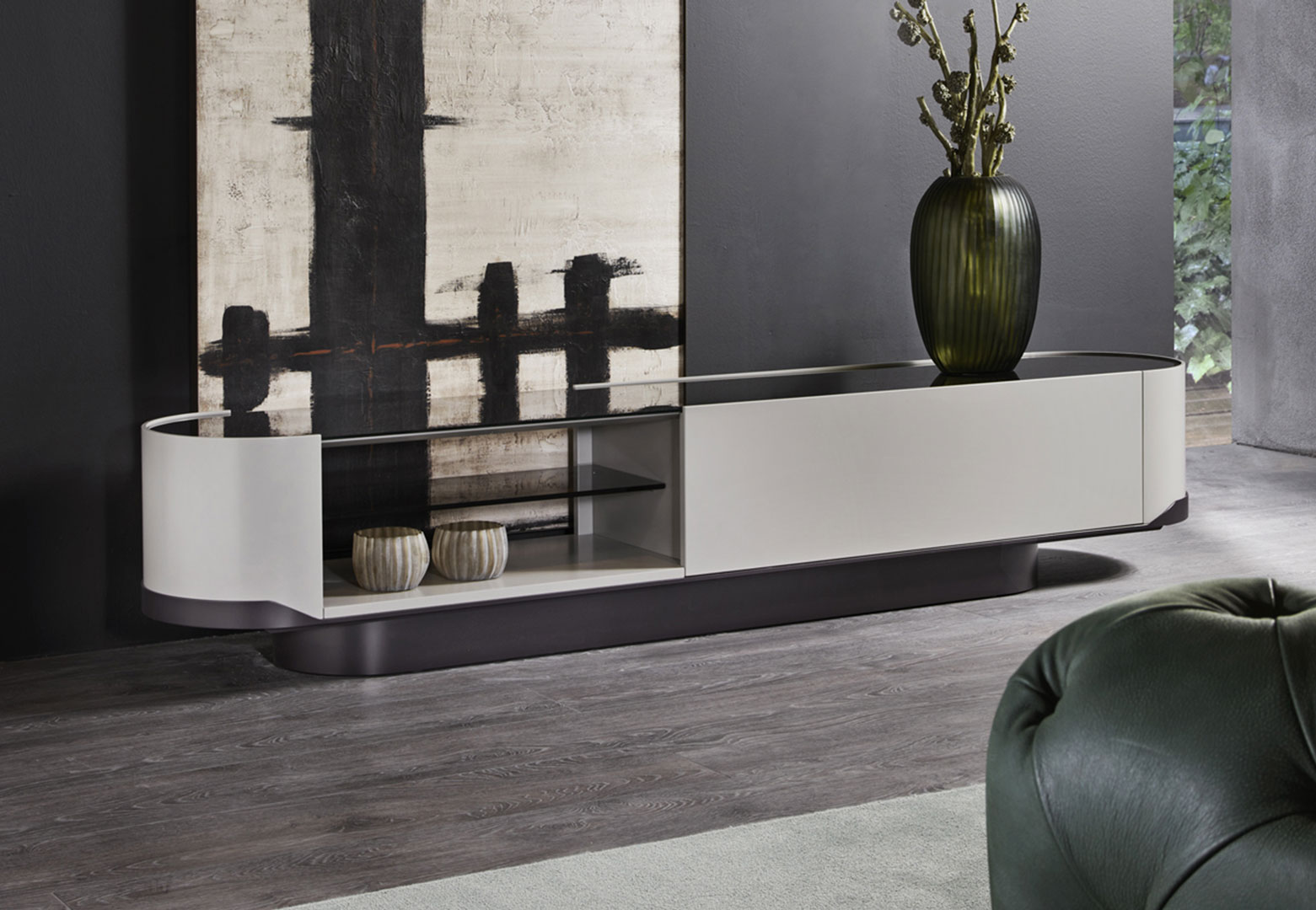 The living room is proving to be the most lived-in place of all living areas, where we spend the most important moments, and our moments of relaxation and conversation. The furniture thus becomes more refined, and selected to meet the needs of an increasingly demanding everyday life when it comes to the quality of its design and its functionality.
Cantori, always attentive to the evolution of interior design and to elegant furniture, has created, together with Maurizio Manzoni, Florentine architect and designer, a series of TV stands with a refined design to complete its most famous and successful historical collections, as well as the most or innovative and contemporary ones, like the Gregory one.
The TV stand is thus transformed: from a necessary complement to a refined furnishing element, a protagonist of the space consistent with the style and taste of its environment. Not only an accessory that allows an optimal vision, but an object with an original and pleasant aesthetic in and of itself.


Gregory
Among the novelties of Cantori's catalogue the Gregory TV stand stands out. Presented at the Milan exposition of the Salone del Mobile, it is characterized by its enveloping and organic shape in which — in perfect structural regularity — it is placed an open space with a particularly refined interior, where even the materials used acquire a unique value.

Mirage

The TV stand completes the Mirage collection. Inspired by the homonymous series of living room furniture, the Mirage has an impeccable style, and it is characterized by a precious vertical detail made of metal, a material that runs through all of Cantori's creations as a common thread. This TV stand thus becomes both compact and versatile thanks to the several finishes proposed by the company's extensive samples.
Oasi
Even the Oasi TV stand keeps the detail that gave life to the entire collection. The wooden structure is supported by feet and a shaped metal ring that perfectly embraces, wrapping it, the perimeter of the furniture. Its essential line is defined by a thin metal band at the top, and its generous sinuosity on the sides is combined with refined details, making it an element capable of standing out in any context.

City
In the historic City collection, the TV stand with a characteristic extensible top is enriched with new finishes, at once contemporary and precious, in order to create new cool atmospheres, in perfect harmony with the stylistic and aesthetic desires of the moment.

È necessario aggiornare il browser
Il tuo browser non è supportato, esegui l'aggiornamento.
Di seguito i link ai browser supportati
Se persistono delle difficoltà, contatta l'Amministratore di questo sito.
digital agency greenbubble