Covers: how to choose them and care for them.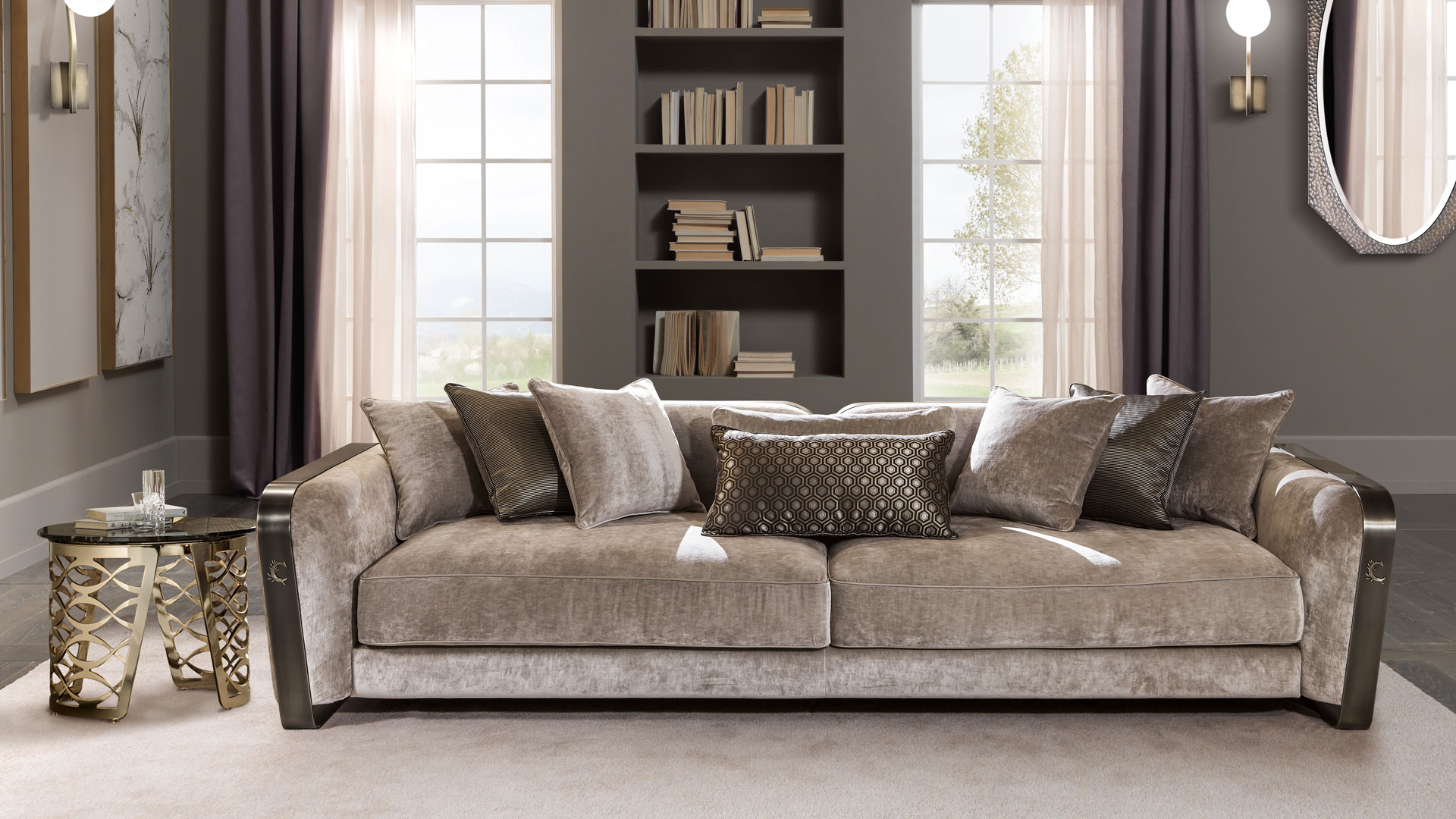 To choose a cover for of a piece of furniture, be it a sofa, an armchair, a chair or a headboard, is always a dilemma, since often we lack some crucial information about them.
Before purchasing any of them is necessary to evaluate aesthetic aspects, such as colour, texture, and overall feeling, but it is equally important to ponder how easy the material is to clean, how sturdy it is, and to consider one's lifestyle.
All of Cantori's furniture is covered with materials of certified origin and, in order to help you select the best cover, we want to explore the pros and cons of each type of material, and to offer a few advices to help you make an informed choice.
Leather
Nubuck
Suede
Eco-leather
Eco-nubuck
Fabric
Velvet
A cover for each home
1. Leather
Leather is a material with a long history, used for both covers and clothes. It doubtlessly transmits warmth and comfort, but its beauty is delicate, and it requires care and attention.
Pros:
Sturdy.
It has self-ventilating and thermal-regulating properties, that is to say that stays warm in winter and cool during the summer.
Long-lasting.
Resistant to mites and allergens.
Easy to clean.
Cons:
Requires constant maintenance.
Very prone to scratches.
Materials like jeans and other rough fabric, when rubbing against leather, could transfer their colour and stain it, especially if the leather is white or a clear colour.
To clean a leather furnishing accessory, it is possible to use a wet microfibre cloth, along with a few drops of soap, to gently rub it. Afterward, clean the area with a dry clean cloth.
Cantori selects leather from the best Italian tanneries, as in the case of the Twist armchair. The top grain leather we employ is a very high-quality variety that stands out for its natural look and its softness, both to sight and touch. The quality of this material is ideal for those who love simplicity and a clean design, and who can appreciate a valuable and long-lasting cover.
2. NUBUCK
Nubuck is an extremely refined finish for cattle leather, mainly employed for covering sofas, armchairs, chairs, and headboards. An elegant, refined and valuable material, with a weather-worn look that can give a unique feeling to each piece of furniture.
Pros:
Soft to the touch.
Comfortable.
Long-lasting.
High quality.
Cons:
In the case of coffee, tea, or wine spillages it is necessary to remove the liquid which came in contact with nubuck before it dries. It is possible to clean the stained area with a soft, dry cloth, avoiding any kind of oil- or solvent-based products.
If you have chosen this kind of material for your headboard, and you usually lean against it, it is advised to use a pillow or a temporary cover since, over time, the cover could be stained and difficult to clean
Cantori employs nubuck also to highlight the comfort of the Shiba chair and of the Twist armchair, making them a perfect addition to a furniture style that pays attention to details.
3. Suede
Suede is one of the most luxurious materials, with a strong aesthetic impact. Those who choose suede do so in order to have furniture accessories that make a difference in a home.
Pros:
Soft.
Velvety to the touch.
Long-lasting.
Sturdy.
A living material.
Cons:
A suede cover transmits both a welcoming and a refined mood to the environment, but only if kept clean and tidy. In order to do so, it is necessary to clean it, quickly but regularly, with a suitable brush (a very soft one, able to delicately remove dirt), and with a vacuum cleaner.
Cantori offers a suede cover for both the Twist armchair and the Atenae and Montecarlo sofas, in order to highlight the high quality craftmanship of our master upholsterers and to make of a sofa the true protagonist of a living room.
4. Eco-leather
Eco-leather is a less expensive choice, as compared to genuine leather. This material also has a low environmental footprint and is vegetarian-friendly.
Pros:
Practical.
Easy to clean.
Sustainable.
Resistant to mites and allergens.
Cons:
Wears out over time.
Prone to scratches.
To clean an eco-leather cover, it is simply necessary to wipe a wet cloth over the affected area, with a delicate and circular motion.
The dark brown eco-leather used for the Adria armchair gives it a distinct vintage look, enhancing its lines.
5. Eco-nubuck
Eco-nubuck, realized with synthetic fabrics, is ideal for those who want a cover with a suede effect, while being both sustainable and practical.
Pros:
Resistant to friction.
Good breathability.
Washable.
Long-lasting.
Sustainable.
Mites repellent.
Cons:
In order to clean a furniture accessory with an eco-nubuck cover it is necessary to dust the stained area and then wipe it with a wet cloth and a solution of water and a little neutral soap. For larger stains it is necessary to remove the cover in the area, if possible, and to let it dry inside-out, avoiding direct contact with sunlight.
Cantori employs eco-nubuck for sofas, chairs, and headboard, in various shades, from grey to sand, and from dove-grey to warmer colours such as beige and cognac red. Those who seek an elegant environment should furnish a room with tone on tone elements, such as those of the Elvis line, covered with stone-grey eco-nubuck.
6. fabric
Fabric, with its various textures and shades, is the ideal choice for those who love a welcoming and familiar feel for their home, and are looking for both comfort and practicality.
Pros:
Cozy.
Easy to clean, especially when it's possible to remove the covers and wash them.
Chance to change colour and texture.
Available in stain-resistant versions.
Cons:
Delicate.
Difficult to clean in the case of spillages of liquids.
Wears out over time.
If you choose a fabric cover the most practical option is a thick weave variety, since dirt will be hidden to sight. If the cover can be removed, it is sufficient to machine-wash it at 30 degrees, without a spin cycle. If the cover cannot be removed, you need to use an appropriate brush, and clean the soiled area with a soft cloth and a delicate fabric detergent.
Remember that fabric, but more generally all kinds of covers, can be colonized by mites, gather dust and absorb smells. It is therefore necessary to take care of them with a regime of ordinary maintenance.
While developing our products, we at Cantori select a variety of high-quality fabrics, like the Sirolo, the Costa (Shiba chairs and Shanghai sofa), and the Capri linen (Aurora rocking chair). These weaved fabrics are ideal to create a dynamic look, making even the most streamlined of designs varied and eye-catching.
7. velvet
Velvet is one of the most appreciated materials, a symbol of wealth and luxury. Its principal characteristic is that of having a short but very thick pile on its front side (in this case it is called plain velvet).
Pros:
Softness and comfort.
Elegance and quality.
Cons:
Delicate.
Higher price.
Wears out over time.
This kind of cover is perfect to be placed in a classical-style environment. Velvet, especially if homogeneous, tends to wear in the zones where friction is more frequent, thus producing a vintage look. Indeed, the latest trend is to employ velvet even in the context of modern furnishing styles, as to create a stylish impact.
To clean velvet it is necessary to use a vacuum cleaner with the proper accessories, or a suitable brush. It is however necessary to pay particular attention if your headboard is covered in this material, in order to avoid it wearing out over time.
Cantori offers different varieties of velvet, like the Aspen (used for the Aurora armchairs), the Dama and the Gold (for the Adria and Hermoso chairs) which, having a more complex texture can better hide any kind of wear, and finally the Bellagio (for the Valentino bed) which presents an old-fashioned weave and pattern, perfect for those who are after this kind of look.
8. A cover for each home
To know the pros and cons of every kind of material is important, but it is also necessary to consider the characteristics of your home. To have kids, pets, or simply to live near the sea can all be factors to consider when choosing your cover.
If you are a family, perhaps with young children, a leather-cover sofa is the best choice, so as to avoid constantly washing the fabric, due to food or crayon stains. A piece of advice is to avoid light colours, such as white, but rather choose a dark brown or a Bordeaux, to better hide dirt and stains.
If you are furnishing a summer house by the sea a leather sofa or armchair is not recommended, considering how this material can be uncomfortable in hot and humid weather. A removeable fabric cover is certainly a more suitable choice, since it will be easier to clean up sand or saltwater stains.
If you have pets, the choice is trickier, because if your cats or dogs are used to climbing on the sofa, a fabric cover is your best option, for it will need to be removed and washable to keep it clean and hygienic. A leather sofa is easier to clean, considering how it won't absorb stains or bad smells, but this can only be a viable option if your furry friends do not have the habit of scratching your furniture.
If you are leaning towards a velvet cover you should consider that it is not a very summer-friendly material, neither from a comfort standpoint nor from an aesthetic one.
If in your house you have paid careful attention to the materials that compose your furniture, and you want to keep the same level of attention for the covers, you should choose suede: a suede armchair in a corner of your house will leave your guests speechless.
If you want to use the same material for all the covers in a room, you should choose eco-nubuck, which can be used on headboards, night tables, dressers, benches, and poufs, all in the same style, in order to create a coordinate design.
If you like to live a sustainable lifestyle, but do not want to compromise on a well-defined style for your home, with a carefully chosen finish, eco-leather is ideal for you.
For more information, get in touch with us here
Book a visit to our showroom, in order to experience first-hand the quality of our products, here

È necessario aggiornare il browser
Il tuo browser non è supportato, esegui l'aggiornamento.
Di seguito i link ai browser supportati
Se persistono delle difficoltà, contatta l'Amministratore di questo sito.
digital agency greenbubble